Pernahkah Anda ditawari produk asuransi? Ya, pasti pernah. Sebagian besar pasti pernah disodori produk yang cukup menjanjikan ini. Tapi, meski cukup menjanjikan, tak banyak di antaranya yang langsung memutuskan untuk memiliki asuransi. Bisa dikatakan masyarakat cukup antipati dan skeptis jika mendengar kata asuransi. Sebagian besar berpikir kalau asuransi tidak begitu perlu, terlalu membuang-buang uang, hanya menguntungkan agen, dan pikiran negatif lainnya yang berdampak pada sikap penolakan akan asuransi. Tapi, benarkah masyarakat se-skeptis itu memandang asuransi? Riset yang dilakukan Inside.ID kali ini berhasil membongkarnya!
Riset yang dilakukan Inside.ID menunjukkan hasil yang sebaliknya. Mayoritas masyarakat kini sudah memiliki asuransi. Terbukti dari hasil riset yang menunjukkan sebanyak 7 dari 10 responden mengaku sudah memiliki asuransi. Hal ini menunjukkan bahwa kesadaran masyarakat akan pentingnya asuransi semakin meningkat. Bahkan bisa kita katakan asuransi sudah menjadi gaya hidup masyarakat saat ini
loh!
Mengapa pada akhirnya masyarakat banyak yang memilih asuransi? Hal ini dikarenakan asuransi hadir sebagai jawaban atas ketakutan-ketakutan masyarakat pada hal yang tidak bisa diprediksi. Ia dipercaya sebagai solusi terbaik dalam mengatasi persoalan hidup yang kehadirannya tidak dapat diduga-duga. Katakanlah ketika tiba-tiba terjadi kecelakaan, terkena penyakit parah, atau bahkan biaya pendidikan yang terus melonjak, asuransi seakan-akan mampu menghapus segala ketakutan akan hal itu.
Akan tetapi, meski asuransi mampu menggaransi kejadian-kejadian tak terduga tadi, nyatanya masih ada sekitar 28% responden yang belum memiliki asuransi. Apa sih kira-kira yang menjadi pertimbangan mereka?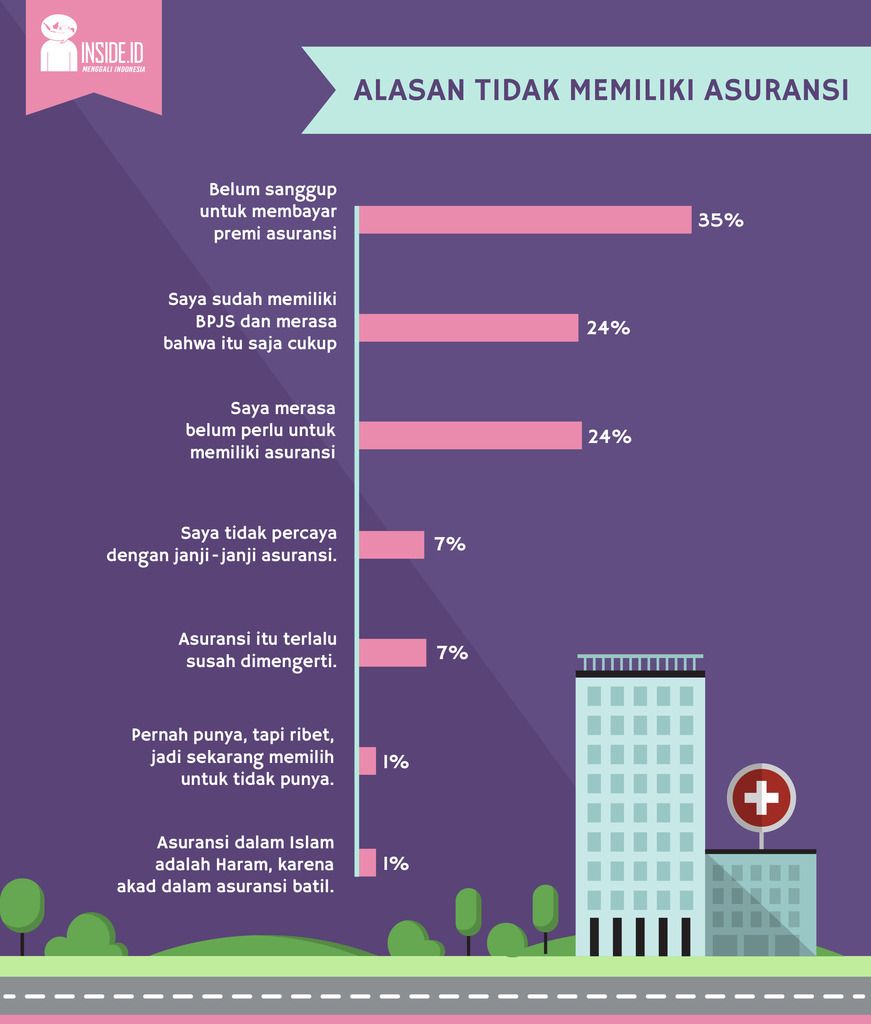 Sebagian besar mengaku biaya menjadi faktor utama mengapa mereka belum juga memiliki asuransi pribadi. Biaya premi yang dibebankan dari perusahaan asuransi dirasa terlalu berat sehingga mereka belum sanggup untuk menyisihkan sebagian uangnya. Sedang di sisi lain, sebanyak 24% mengaku belum perlu memiliki asuransi pribadi. Sementara itu 1 dari 4 orang mengaku sudah memiliki BPJS dan merasa sudah cukup dengan jaminan pemerintah yang satu ini. Masih banyak alasan lainnya yang membuat mereka belum memiliki asuransi. Akan tetapi, dengan berbagai alasan tersebut ternyata mayoritas mengaku bahwa mereka berniat untuk memiliki asuransi.
Ya. Dari sebanyak 28% yang belum memiliki asuransi, ternyata 72% di antaranya mengaku ingin memiliki asuransi. Jadi, meski ekonomi menjadi penghalang dan alasan terbesar, nyatanya asuransi tetap menjadi hal yang diinginkan oleh mereka. Hal ini semakin menguatkan bahwa memang asuransi sudah menjadi gaya hidup masyarakat ya. Lalu, asuransi apakah yang paling mereka inginkan?
Kesehatan adalah hal yang begitu penting dan tak ternilai harganya. Meski kita memiliki uang yang banyak, apalah artinya jika kita terbaring lemah di rumah sakit. Tak heran jika mayoritas responden menginginkan asuransi kesehatan. Sebagai aset paling penting, kesehatan memang pantas menjadi keinginan utama yang harus terjamin dan diasuransikan.
Selanjutnya setelah kesehatan, yang paling diinginkan adalah asuransi jiwa dan disusul dengan asuransi pendidikan yang ternyata lebih diinginkan oleh kaum wanita. Mungkin sebagai ibu atau calon ibu, seorang wanita menginginkan jaminan pendidikan yang terbaik bagi diri dan keluarganya.
Dengan berbagai macam produk asuransi yang mereka inginkan, perusahaan manakah yang paling dipercaya mampu menjamin kehidupan mereka?
Prudential. Ya, Prudential adalah perusahaan yang paling diminati. Sebanyak 61% responden mengaku ingin memiliki asuransi dari Prudential. Pada tahun 2013, Lembaga Marketing dan Sosial Research MarkPlus Insight melakukan riset di enam kota besar di Indonesia yang mengungkapkan bahwa perusahaan Prudential memiliki tingkat popularitas yang cukup tinggi, ditandai dengan perolehan enam kategori terbaik yakni,
Most Popular Brand of Health Insurance, Best Customer Choice of Health Insurance, Most Popular Brand of Unit Link Insurance, Best Customer Choice of Unit Link Insurance, Most Popular Brand of Life Insurance,
dan
Best Customer Choice of Life Insurance.
Ternyata kepopuleran perusahaan asuransi yang satu ini masih bertahan hingga saat ini ya.
Setelah Prudential, perusahaan asuransi berikutnya yang paling diminati adalah AXA dengan perolehan 37%. Kemudian disusul dengan Allianz, Jiwasraya, Manulife, Bumiputera, dan selanjutnya. Uniknya, dari riset ini ada dua perusahaan asuransi yang lebih diminati kaum pria yakni perusahaan AIA dan Sinarmas MSIG.
Wah, meski mengaku belum memiliki asuransi ternyata mereka sudah tahu ya perusahaan apa yang mereka inginkan saat mereka berasuransi nanti. Hmm, ini artinya mereka melakukan survey dengan mencari informasi terlebih dahulu. Dari manakah informasi yang mereka dapatkan?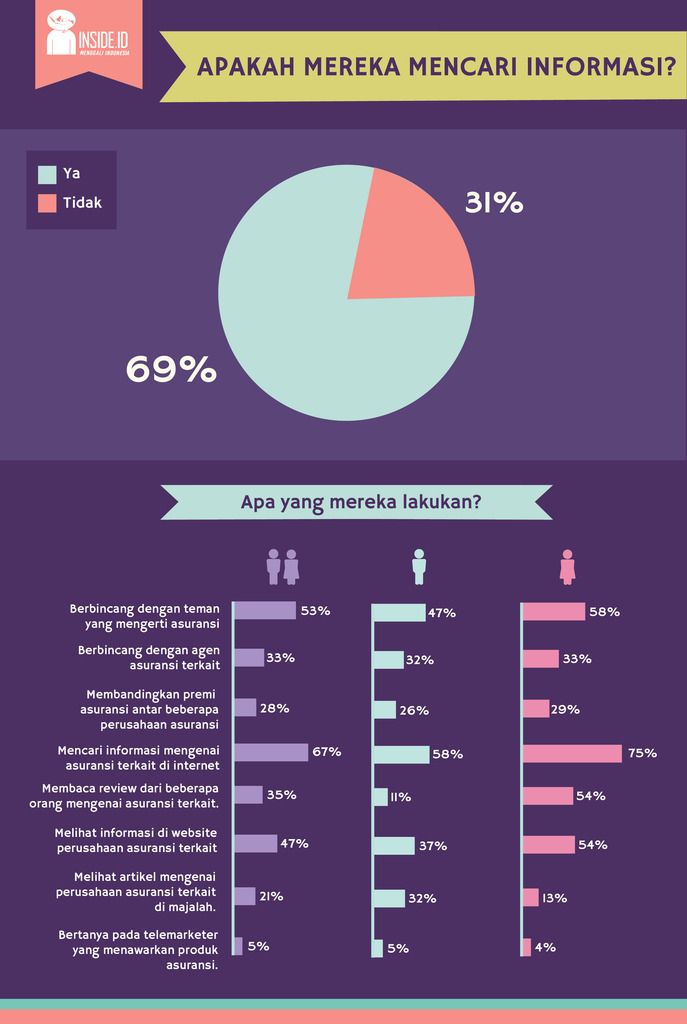 Dari 69% responden yang mengaku mencari informasi, mayoritas mencari informasi melalui internet. Sedangkan 53% di antaranya mencari informasi dengan berbincang bersama teman yang mengerti asuransi. Di antara berbagai cara yang mereka lakukan, ternyata bertanya langsung dengan telemarketer yang menawarkan produk asuransi sangatlah jarang, hanya sekitar 3-4 responden saja. Wah, kenapa ya? Bisa jadi karena mereka takut dikejar-kejar oleh para telemarketer itu mungkin. Entahlah, mungkin disebabkan karena hal ini.
Mayoritas responden mengaku berencana untuk memiliki asuransi dalam jangka lebih dari satu tahun ke depan. Selain itu juga sekitar 27% mengaku berencana untuk memiliki asuransi dalam waktu 1 tahun ke depan, dan 10% lainnya mengaku berencana 6 bulan ke depan. Sedangkan responden yang memiliki rencana kurang dari 6 bulan hanya ada sekitar 10% saja. Hal ini menunjukkan bahwa meski sudah memiliki niat bahkan sampai mencari informasi tentang asuransi, mereka membutuhkan waktu yang tidak sebentar untuk benar-benar berasuransi. Karena asuransi adalah produk yang membutuhkan komitmen finansial jangka panjang, bisa jadi mereka membutuhkan waktu sedikit lebih lama dalam merencanakannya sehingga ke depannya tidak terjadi pemutusan asuransi atau ?berhenti di tengah jalan?.
Akan tetapi, meski mayoritas berencana memiliki asuransi dalam jangka yang cukup lama, ini semakin membuktikan bahwa asuransi telah menjadi gaya hidup masa kini. Dengan telah mempertimbangkan, mencari informasi, bahkan merencanakannya (dalam jangka waktu tertentu) menunjukkan bahwa asuransi secara sadar tak sadar masuk dalam kebutuhan hidup yang amat dipertimbangkan. Nah, bagi Anda yang belum memiliki asuransi, apakah Anda sama seperti mereka?