Pernahkah kalian berwisata? Jawabannya pasti pernah. Ya, berwisata pasti pernah dilakukan setiap orang mulai dari usia anak-anak bahkan hingga usia senja. Seringkali jalan-jalan dijadikan sebagai momen penuh kebahagiaan yang dilakukan baik bersama keluarga, kerabat, pasangan, atau mungkin dilakukan seorang diri.
Lalu, dalam momen
travelling
tersebut, berada di posisi manakah Anda? Apakah Anda seorang inisiator yang selalu menggerakkan massa? Atau Anda termasuk orang yang terima beres alias ?siap jalan?? Atau mungkin Anda adalah seseorang yang sering berpergian seorang diri? Nah,
traveller
ternyata banyak jenis-jenisnya loh, yuk simak hasil risetnya.
Berdasarkan riset kualitatif yang dilakukan oleh Inside.ID, ditemukan bahwa terdapat empat segmentasi dalam sebuah perjalanan. Segmentasi-segmentasi itulah yang kemudian menyebabkan timbulnya tipe
traveller
yang berbeda-beda.
Riset ini berhasil menemukan empat segmen umum saat melakukan
travelling.
Keempat segmen ini memiliki peran berbeda dalam sebuah perjalanan.
Pertama, seorang organisator, yakni mereka yang mengorganisasi sebuah perjalanan mulai dari perencanaan sampai perjalanan berlangsung. Kedua, pasukan siap pergi (
ready-to-go
). Mereka adalah orang-orang yang biasanya terima jadi dan mempercayakan segalanya pada organisator. Ketiga,
the one man show
atau pengembara. Mereka adalah orang-orang yang senang berpetualang dan menciptakan perjalanannya sendiri. Kemudian yang terakhir adalah pemburu diskon (
value hunter
). Mereka adalah orang-orang yang senang berpergian untuk mencari tempat-tempat wisata yang pantas untuk dikunjungi.
Setelah mengetahui sekilas gambaran mengenai keempat segmen atau tipe
traveller
di atas, selanjutnya kita akan membahas lebih rinci mengenai keempat tipe tersebut. Jadi, kalian bisa menilai tipe seperti apakah kalian saat melakukan sebuah
travelling.
Organisator (Organizer)
Mereka adalah orang-orang yang memiliki minat dalam hal traveling. Mereka juga bersedia menyibukkan diri untuk merencanakan perjalanan seperti apa yang akan dilakukan. Bisa dikatakan mereka adalah dalang, mereka adalah otak di balik sebuah perjalanan wisata. Biasanya mereka tidak terlalu menikmati pekerjaan mereka sehingga traveling bisa menjadi kegiatan pelepas penat. Menjadi dalang dari sebuah perjalanan wisata berarti juga menjadi pemimpin dalam kelompok wisata yang dipercaya dengan penuh oleh anggota lainnya.
Hal yang biasa mereka lakukan adalah membaca blog-blog mengenai travel, ulasan, serta forum-forum traveling. Beberapa juga berkontribusi dalam forum-forum traveling. Selain itu juga mereka selalu
up to date
dengan lokasi-lokasi serta ide-ide wisata baru yang mereka lihat melalui akun sosial media. Semua hal tersebut mereka lakukan sebagai modal dalam mencari ide dan rekomendasi yang tepat.
Apa motivasi utama mereka? para organisator adalah orang yang senang dipuji, maka tak heran kalau salah satu motivasi utama adalah mendapatkan pujian atas pencapaian yang mereka dapatkan. Mungkin keinginan untuk dipuji dapat dianggap sebagai sesuatu hal yang negatif, tapi hal itu tak lain menjadi dorongan bagi para organisator untuk terus menciptakan ide-ide brilian sehingga tidak mengecawakan rekan lainnya. Selain itu, alasan utama mereka adalah untuk membangun sebuah usaha bersama, tentunya di bidang travel. Karena mereka umumnya tidak menikmati pekerjaan yang sedang mereka geluti, tentu mereka berpikir untuk beralih pada pekerjaan yang sesuai dengan minat serta bakat mereka.
Pasukan Siap Jalan (Ready-to-Go)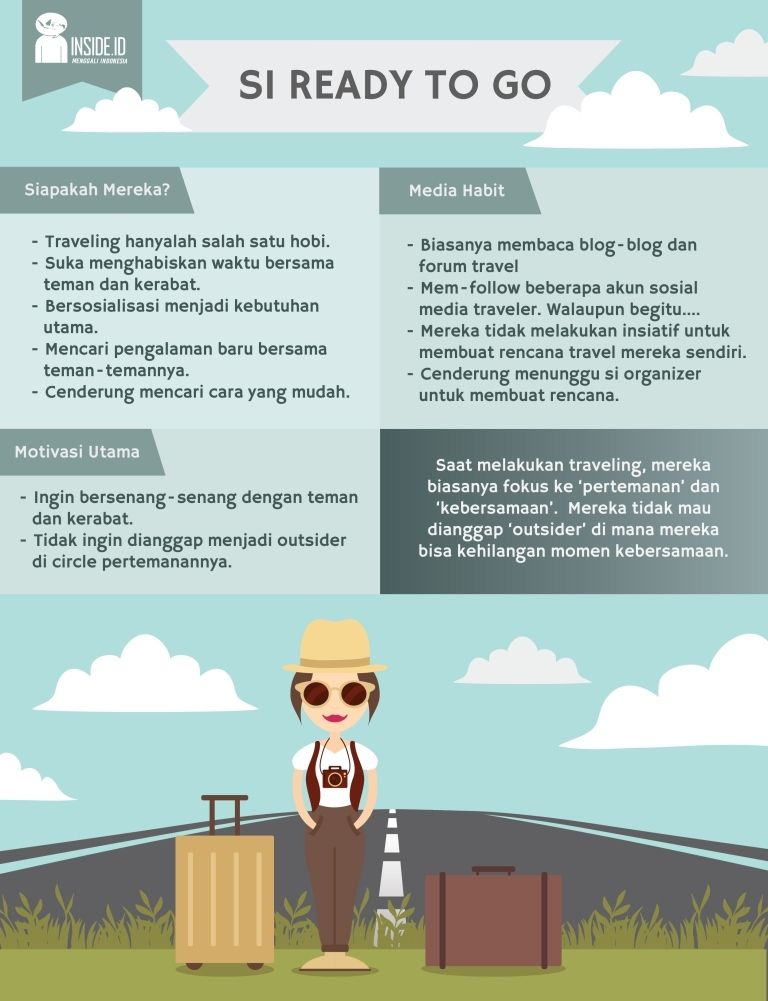 Akui saja kalau di antara kalian banyak yang enggan repot mengurus ini itu, ingin terima beres, dan langsung jalan tanpa harus memikirkan apapun. Ya, tipe traveler yang satu ini disebut sebagai pasukan siap jalan.
Siapakah mereka?
Pasukan siap jalan adalah mereka yang menjadikan traveling sebatas hobi, bukan
passion
seperti yang dilakukan para organisator. Pasukan siap jalan ini cenderung menggunakan traveling sebagai ajang kumpul dan bersenang-senang dengan sahabat. Mereka akan memilih pergi jika banyak yang pergi. Istilahnya, ?kalau rame pasti ikut?. Tipe traveler yang satu ini juga senang berpetualang bersama rekannya, tapi mereka biasanya lebih memilih jalan yang mudah. Wajar, pasukan siap jalan ini sesungguhnya lebih mengincar momen kebersamaan dibanding dengan tempat wisata.
Tak berbeda dengan organisator, para pasukan siap jalan ini juga biasa membaca blog dan forum travel sebagai upaya mencari rekomendasi. Dan, mereka pun tak enggan untuk mem-
follow
akun-akun media sosial para travel. Tapi meskipun kebiasaan mereka mirip dengan para organisator, mereka tidak akan mengambil inisiatif untuk melakukan perjalanan, mereka lebih baik menunggu diajak oleh si organisator.
Pengembara (The One Man Show)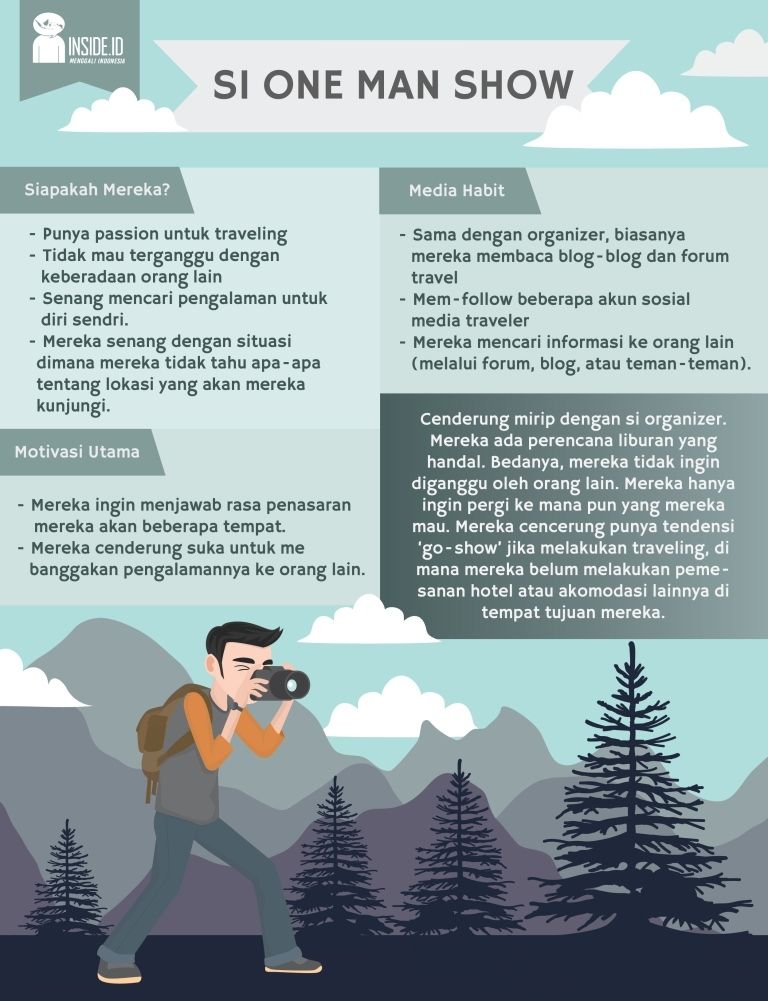 Tipe traveler berikutnya adalah
the one man show
atau pemburu. Kalau dua tipe sebelumnya biasa melakukan perjalanan bersama orang lain. Tipe traveler yang satu ini lebih senang melakukan perjalanan seorang diri. Mereka lebih senang berpetualang menelusuri tempat-tempat yang tidak mereka ketahui. Kita biasa menyebut tipe ini dengan ?backpacker?. Mereka senang berpetualang menemukan tempat-tempat unik.
Sama dengan para organisator,
the one man show
juga membaca banyak rekomendasi traveling dari blog dan forum-forum traveling, mereka juga mengikuti akun-akun media sosial para traveler, serta tidak enggan bertanya di dalam forum-forum traveling.
Motivasi utama mereka adalah untuk memenuhi rasa penasaran terhadap tempat-tempat tertentu. Terkadang mereka juga senang memamerkan pengalaman mereka kepada yang lain. Sebenarnya mereka sedikit mirip dengan organisator. Mereka adalah perencana perjalanan yang baik, hanya saja mereka tidak ingin perjalanannya diganggu oleh orang lain. Mereka hanya ingin melakukan perjalanan sesuai dengan apa yang mereka inginkan meskipun tidak memiliki tujuan pasti.
Windy Ariestanty, seorang traveler terkenal di Indonesia merupakan salah satu contoh dari seorang
one man show.
Ia merupakan seorang traveler yang biasa berpergian seorang diri. Seperti yang dilansir oleh yukpiknik.com, Windy mengaku pertama kali pergi sendirian waktu kelas 6 SD saat melakukan perjalanan dari Blitar ke Palembang. Ia melakukannya seorang diri, dan mulai saat itu ia terbiasa untuk traveling seorang diri.
Pemburu Diskon (Value Hunter)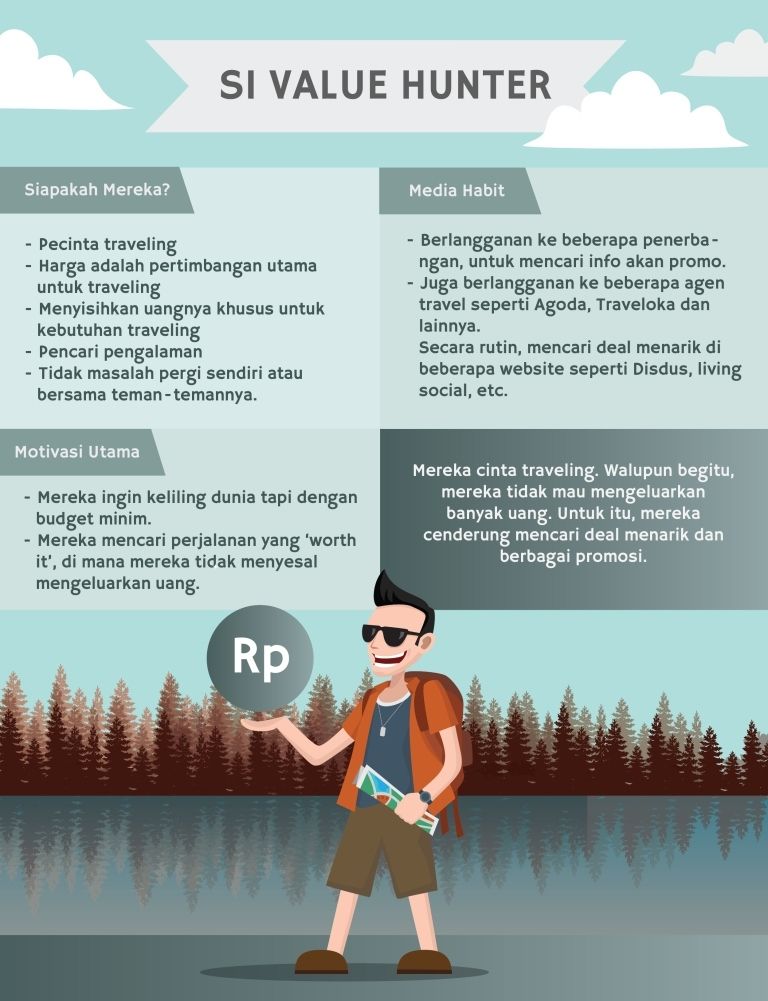 Tipe traveler yang terakhir adalah pemburu. Mereka adalah orang-orang yang menyenangi traveling. Pada dasarnya mereka tak jauh beda dengan yang lainnya, tapi letak perbedaannya adalah pertimbangan utama para pemburu ini adalah uang. Traveling dijadikan sebagai salah satu pos keuangan para pemburu ini loh. Mereka menjadikan uang sebagai pertimbangan utama, sehingga segalanya akan sangat diperhitungkan sesuai dengan budget yang mereka siapkan.
Mengapa mereka menjadikan uang sebagai pertimbangan? Alasannya adalah, para pemburu mencari tempat wisata yang pantas untuk dikunjungi, di mana mereka tidak akan menyesal karena telah menghabiskan uangnya untuk berwisata. Meski mereka menyukai traveling, mereka tidak akan menghabiskan banyak uang untuk melakukan itu. Salah satu kebiasaan yang mereka lakukan adalah dengan menjadi
subscriber
dari beberapa agen perjalanan dengan tujuan mencari promo-promo agar mendapatkan tawaran harga yang bisa menekan budget.
Nah, setelah menyimak tipe-tipe traveler di atas maka dapat kita lihat bahwa setiap traveler memiliki keunikannya masing-masing. Mereka memilki caranya sendiri untuk memenuhi kebutuhan wisata mereka. Nah, bagaimana dengan Anda? Traveler seperti apakah Anda?